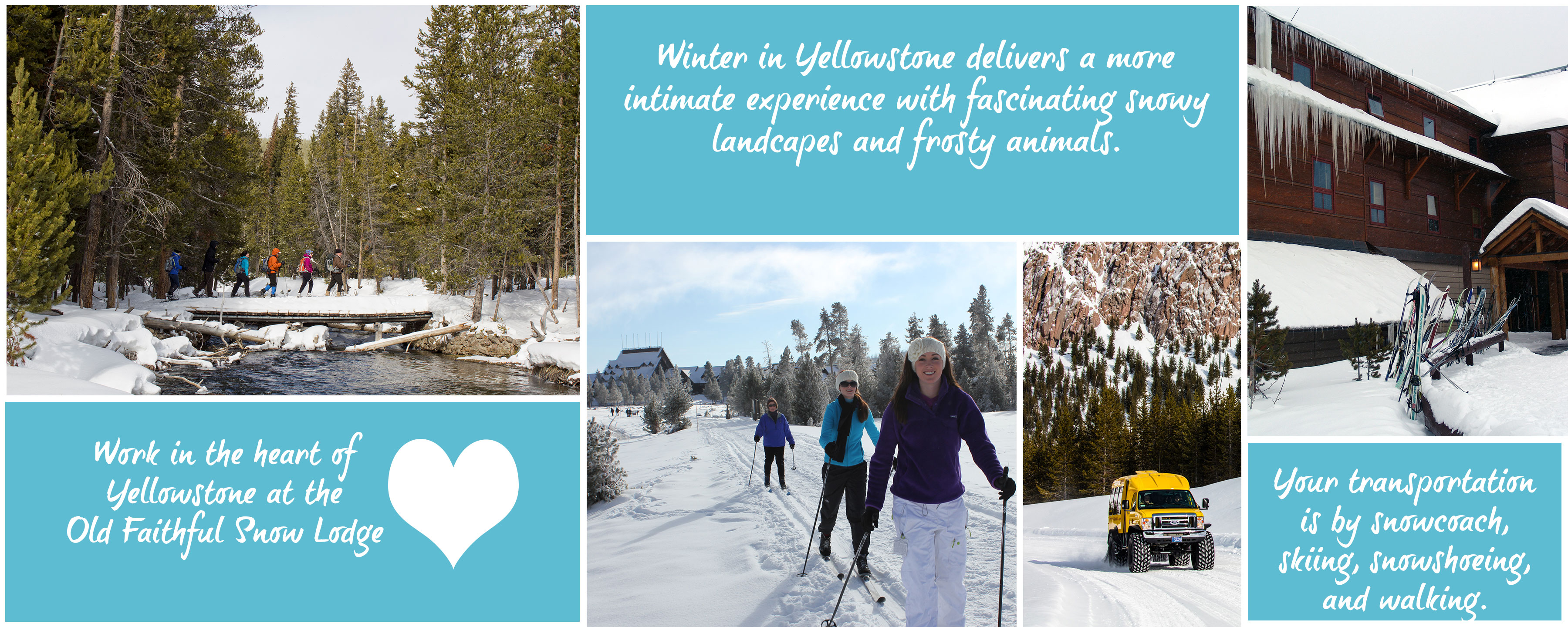 Do you want to spend winter 2019 working in Yellowstone National Park? Multiple jobs are available this winter and it is an incredible opportunity for you to experience winter as few others do.
If living, working, and exploring in Yellowstone during the winter sounds intriguing and exciting to you, please read on or check out our website.
Your Perks Include:
Living in the world's first National Park

Experiencing Yellowstone's quiet season

Low-cost housing (dormitory style) and meals (cafeteria style) provided

Wi-Fi (limited bandwidth) provided

Free Employee Recreation Program (educational seminars, photo contests, ski trips, and more!)

For more info on perks & benefits, click here

.
Winter Jobs in Yellowstone
During winter 2019, we operate the Old Faithful Snow Lodge inside Yellowstone (Mammoth Hot Springs Hotel will be closed this season due to renovations). You will bond quickly with your co-workers in this quiet, serene, and cold season. Those who work through the winter form a close-knit community by working and exploring this snowy landscape together.
Our winter season runs from December through March. Your assigned role may vary based on your experience level as well as our business needs but may include:
Kitchen crew (prep, set-up, service, clean up, and restocking of food service areas)
Room attendant (clean and prepare guest rooms)
What You Are Looking For
You have a positive attitude and proven work ethic

You have an adventurous nature

You are okay with living in a winter wonderland where the only access in and out is by snow coach and your main form of transportation is skiing.
Live. Work. Explore. Yellowstone National Park Is Naturally Different
At Yellowstone National Park Lodges, we are a welcoming community who work hard, share a real passion for the environment, and enjoy crafting memorable experiences for our guests. We are the primary concessionaire in Yellowstone National Park. As part of the Xanterra Travel Collection, we have a "naturally different" lifestyle that allows you to live, work, and explore one of the most beautiful places on earth. We are a company based on values that reflect an environmental ethic and social conscience – for the long-term. "Our Softer Footprint" focuses on how we reduce our environmental impact through our comprehensive environmental initiatives. Our business practices exemplify environmental stewardship, and a desire to protect and preserve our public lands.
All qualified applicants will receive consideration for employment without regard to race, color, religion, sex, sexual orientation, gender identity, national origin, disability or veteran status.