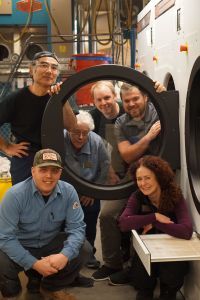 Live. Work. Explore. Yellowstone National Park Is Naturally Different
What We Are Looking For
At Yellowstone National Park Lodges, we depend on our team members to help guests find their ultimate Yellowstone experience—all while working to protect and preserve the park for future generations. No matter what your job is, you will be a proud steward of the park. You will play an essential role in providing warm and friendly hospitality to all our guests.
What You Are Looking For
Are you interested in working, living, and being an ambassador in Yellowstone National Park?

Are you looking to make friends with people from all over the world?

Do you have a positive attitude and solid work ethic?

Do you thrive in a fast-paced, exciting work environment?

Are you seeking upward mobility and growth opportunities?

Are you looking to gain experience in tourism & hospitality operations (specifically laundry)?

Are you enthusiastic about Xanterra's sustainability initiatives?
If you answered, "Yes" to these questions, a hospitality job in Yellowstone is ideal for you!
The Details
We have immediate openings available for the upcoming 2018 season. Ideally, you will be available to work a full season (now through October 2018). We are also looking for employees that can work fall season only (August through October). If living, working, and exploring in Yellowstone sounds intriguing and exciting to you, please read on or check out our website.
Start Date: ASAP
Employment Type: Full Time, Seasonal (ideally full season or August through October)
Schedule: Varies – 40+ hours per week.
Pay: $9.50-10/hr.

Time and a half paid above 40 hours.

Potential to earn an end of season bonus ($3 a day for each agreement day worked. This could mean an extra $500 added to your last paycheck!)

Perks include:

Low-cost housing (dormitory style) and meals (cafeteria style) provided

Wi-Fi (limited bandwidth) provided

Free Employee Recreation Program (hiking, biking, photography, camping, wildlife watching, educational programs, film series, sports competitions, and more!)

Exclusive discounts in and around Yellowstone

Living in the world's first National Park
A Day in the Life of a Laundry Crew Member
Early Morning
Rise and shine! Laundry starts bright and early. The washers start up at 6am.
Mid-Morning
Get into the groove with some jams while folding, feeding sheets, and making sure things are sparkling clean. Head up to Mammoth at lunch to the Employee Dining Room or bring a lunch to eat at the picnic table while overlooking the Gardiner River.
Afternoon
Things start to wind down in the afternoon as the piles of laundry start to get smaller. Get off by late afternoon and have plenty of time to take advantage of the rest of your day to explore the area!
Evenings
This is your time to relax, enjoy the area, and socialize with new friends. Take part in one of the evening recreation activities like a sport, hike, movie, or game!
Fun Fact
All of the linens used in our guest rooms and restaurants are sent to our central laundry facility in Gardiner, MT to be cleaned, sorted, folded and sent back out into the park. Our hard-working laundry staff feels a great sense of pride in their work. Check out Laundry Operations on YouTube, our website, or in our blog.
Essential Skills and Knowledge:
Candidates interested in laundry services in Yellowstone are drawn to the unique opportunity to work in the world's first national park. You should be enthusiastic about our sustainability initiatives and mission to provide 'legendary hospitality with a softer footprint'. The ability to maintain a positive attitude while working in a loud, high-intensity atmosphere is absolutely essential for this position.
What We Believe
At Yellowstone National Park Lodges, we are a welcoming community who work hard, share a passion for the environment, and enjoy creating memorable experiences for our guests. We are the primary concessionaire in Yellowstone National Park. As part of the Xanterra Travel Collection family, we embrace a "naturally different" lifestyle that allows you to live, work, and explore one of the most beautiful places on earth. We are a company based on values that reflect an environmental ethic and social conscience – for the long-term. "Our Softer Footprint" focuses on how we reduce our environmental impact through our comprehensive environmental initiatives. Our business practices exemplify environmental stewardship, and a desire to protect and preserve our public lands.